Finding the right IoT developer for your Internet of Things project is as important as the idea itself. The OCDLab team in Los Angeles can help you design and build hardware, software and backend platforms for your next smart device idea.
IOT EXPLAINED!
The internet is connecting new things to make them work smartly amongst a common environment. When an object (hardware device) can represent itself digitally, it opens up a wide array of possibilities. This connectivity results in more data, collected from more places, with more ways to increase efficiency and improve safety and security.
The IoT is important since a connected object or device becomes something greater than the object itself. When a device connects to surrounding objects and becomes "ambient intelligent", it is not just a piece of hardware anymore. The connectivity can result in innovative and smart uses of the same old devices with process automation, performance enhancements, and interoperability.
IOT HARDWARE AND SOFTWARE DEVELOPMENT
A common first step toward the IoT is recognizing all objects uniquely through sensors. Unlike other app development projects, IoT is a little different. Instead of just a front-end and backend, there is usually a sensor-driven smart device (hardware), front-end app and the communication platform. With our comprehensive IOT development service offerings, we can help you with hardware prototyping, backend & communication layer, and the client app development.

IOT APPS DEVELOPMENT
android, ios and Hybrid IoT apps

PROTOTYPING
firmware development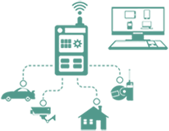 HARDWARE DESIGN
circuit prototyping and design
WHY CHOOSE OCDLAB AS YOUR IOT DEVELOPER?
The IoT developers at OCDLab can help in developing solutions to connect users with environmental data gathered by sensors, controlling devices through the Internet, and creating smart products and services. Our Internet of Things service portfolio includes hardware prototyping and circuit designs, backend architecture, and development of user-facing apps on iOS, Android and other mobile platforms. Add to that, the minimum complexity and cost associated with piecing together solutions from multiple vendors.

Smart Cities

Smart Environment

Smart Water

Smart Metering

Security and Emergency Systems

Smart Retail

Smart Logistics
No matter what your area of practice is, there is always a scope to make your process smarter. We specialize in making simple devices Internet-enabled. IoT can help you increase operational efficiencies by transforming simple objects into intelligent, Internet-enabled smart devices. Contact us today to request a free consultation and how OCDLab can save you thousands of dollars with your next IOT development project.