Looking for top VR Developer? We are the pioneers in Virtual Reality, Augmented Reality and Mixed Reality app development. We build immersive VR apps for Oculus, Samsung Gear, Microsoft HoloLens and every other major platform.
VR APP DEVELOPMENT EXPLAINED!
Virtual Reality has changed the way we interact with our environment, from gaming to product design to simulation to cinematic experiences and beyond. OCDLab delivers practical solutions for VR applications across various industries and domains, including architecture, acoustic, security, medical, and academic institutes.

Advanced visualization, simulation and VR offer an immersive experience as well as a valuable return on investment. OCD Lab is uniquely positioned to bring our expertise to organizations seeking to innovate and transform the way their new products are designed in this exciting space.
Contact us today for your VR app development needs.
Cross-Platform Hybrid Apps Development.
TradeShows and Touch Screen (Kiosks, Trade Show Booths, Large Screens).
Mobile Apps (Android, iPhone, Windows).
Wearable Devices (Oculus, Google Cardboard, Samsung Gear, HTC Vive).
360-degree videos.

AUGMENTED REALITY
overlay of digital content on the real world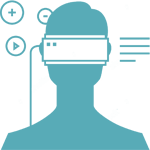 VIRTUAL REALITY
immersive experience with real world or CG

MIXED REALITY
where its starts blending
YOUR LOCAL VR DEVELOPER IN LA
Innovating together is primary to our engagements. It starts with enabling our clients to put together a bucket list in respect to business viability, feasibility, and user desirability. This helps organizations discover the indispensable virtual reality concepts for their business and strategy needs. Our approach is typically a three-stage process – Understanding concerns, Scanning opportunities, and Technical definition.
We set out by clarifying goals and expectations. The initial creative exploration begins with detailed attention on understanding the business context, threats, and success.
The next step is to identify key opportunities. Extensive research, collaboration with subject matter experts, competitive analysis, technical possibilities, secondary research, happen during the second stage.
Lastly, we detail out our proposed concept, both aesthetically and technically to meet our client's business continuity needs. This is usually a detailed product specification and project plan with time and cost estimates.
This three step approach has helped us ideate and deliver some of our most promising VR solutions.
VR IS NOT JUST ABOUT GAMING

EDUCATION
Class room field trips, University Tours, Travel through times for history lessons. Army is using VR for combat training.

HEALTHCARE
Exposure Therapy (EP), Cognitive Behavioral Therapy (CBT), Post Traumatic Stress Disorder (PTSD), Surgery Trainings.

REAL ESTATE
360 degree VR Open Houses allows clients to check out many homes and narrow down the field before visiting the premises.

EVENTS
Journalists are using VR to bring POV experience to current events. News paper are using VR apps for story telling.

MORE
Entertainment, Sports, Tourism, Adventure Sports and the list goes on…