Kiosk Apps are the brains powering the self-serve terminals, which are changing the consumer behavior all over the world. A brilliantly designed user-friendly kiosk app is the magic ingredient that can drastically improve the chances of success with your customers and general users.
KIOSKS FOR BUSINESS
Kiosk technology is helping businesses with automation and streamlining services. Interactive kiosks are increasingly becoming a staple gadget in everyday life. Its expense to serve growing applications had made consumers adopt and demand options for fast, simple self-service.
Benefits include expanded customer access, improved order accuracy, reduced staffing costs, increased security and improved customer satisfaction. It provides convenience to customers and reduces operation costs for business owners.
KIOSK APPS ARE THE MAGIC INGREDIENT
Under the hood, every kiosk is essentially a PC or a tablet device; but what makes it smart and usable is the user-facing app. At OCDLab, we understand that there is much more to kiosk apps than just configuring a device to run in "kiosk mode".
We offer custom kiosk software development and a broad range of off-the-shelf solutions. Our Kiosk solutions are flexible, adaptable and user-friendly. The software underneath is visually appealing, emphasizes on user experience, easy to use, interactive and render all services a human will offer.
Contact us today for your Kiosk software development needs.
Self-service secure multi payment solutions via cash, coins, bank card or check.
Interactive touch screen apps.
Trade Show Kiosk Apps.
Sales Automation Kiosk Software with POS integration.
Remote Monitoring.
Centralized configuration and reporting.
Tailor-made apps and off the shelf solutions.

ENHANCED USER EXPERIENCE
make the consumers feel prioritized.

INCREASED EFFICIENCY
quick, accurate and efficient.

REDUCED COST
considerably lower costs.
WHY OCDLAB?
Our self-service kiosks are designed to reduce the human effort at the counters. We understand the importance of customer service; therefore all our self-serve software are easy, intuitive interactive, reliable and engaging. Brilliantly designed UX and UI ensures a frustration-free experience for customers.
Our off the shelf solutions can be white labeled to match your brand identity and product offerings. The apps are designed to handle multiple requests, customization, with a friendly CMS at the backend so that you can independently operate and update your products and promotions.
HUMAN CENTRIC DESIGN
Beautiful UI/UX that puts people first. Fast to load screens with relevant and compelling content, are designed especially for your targeted audience. Subtle yet meaningful animations enhance the overall appeal and usability of the software.
REMOTE MONITORING AND REPORTING
To help you identify and resolve bottlenecks before they damp critical business processes. Our remote monitoring software gives you instant information about the installed kiosk infrastructure. Centralized reporting enables the key stack holders to access data from multiple remote locations.
TRANSACTIONAL
We design kiosk systems that are secure for transactional solutions. Your customers can interact safely with your existing e-commerce model. The software can be plugged into your existing POS and ecommerce software to update transactions and reporting in real time.
CONTENT MANAGEMENT AND DISTRIBUTION
We design content management systems that can support and deliver scheduled downloads, updates, installs, and much more. The CMS also lets you control the content for individual locations depending on product offerings and business needs.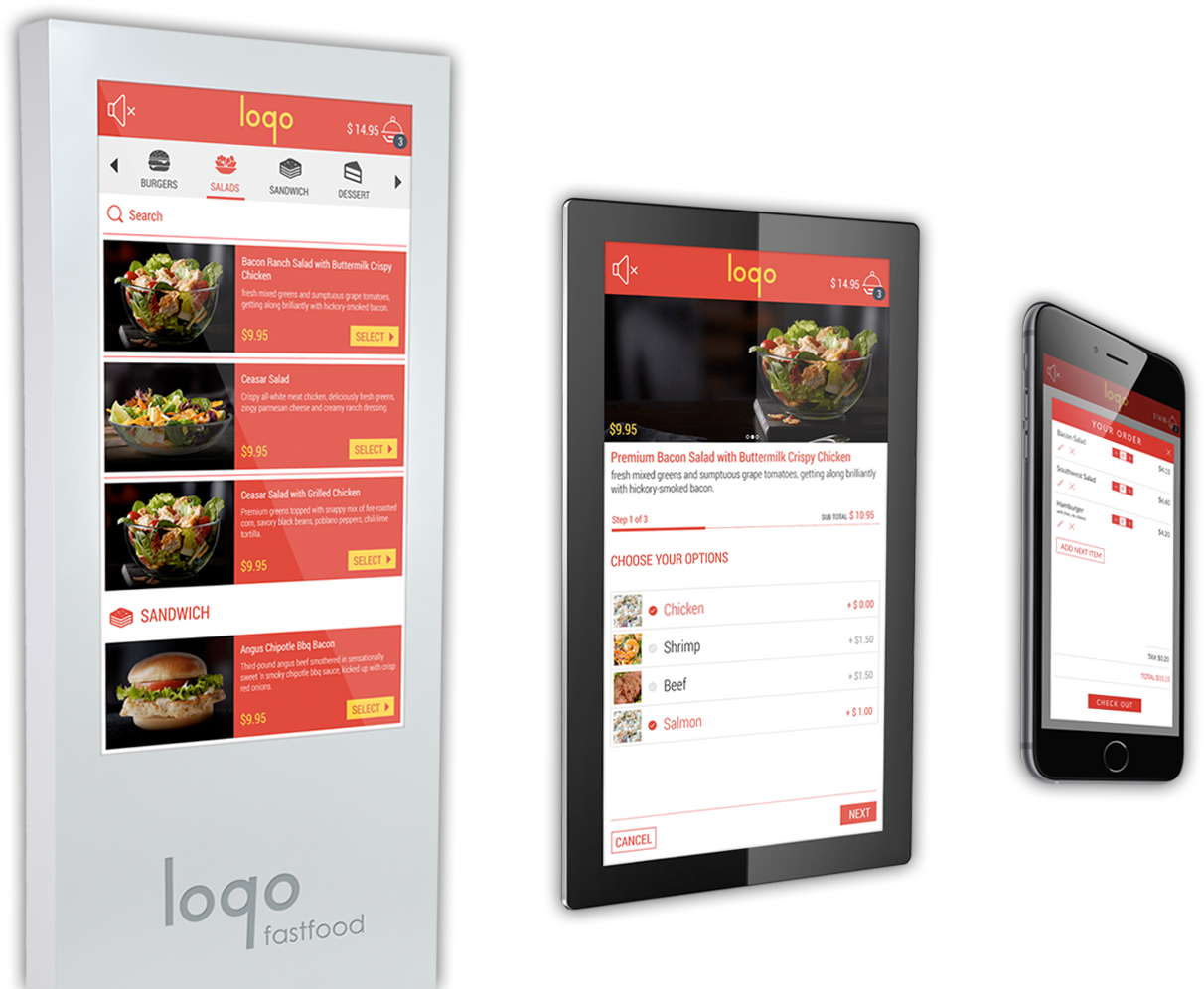 Kiosks, Tablets, Mobile
Custom Solutions that go beyond screens and hardware types. Multi-screen, Multi-platform support and a unified backend for ease of use.
ONE FOR ALL, AND ALL FOR ONE
HOW KIOSKS ARE CHANGING CONSUMER BEHAVIOR

MORE MONEY IS SPENT
Businesses like Taco Bell, Chilli's and CineMark reported up to 20% increase in average order size when using Kiosks. Mostly with additional ingredients and dessert orders.

SOCIAL FRICTION
In Liquor Stores, using self-service kiosks increased the orders for difficult-to-pronounce items by 8.5%. Consumers fear to appear unsophisticated to the clerks. Changing to self-service removed the social friction.

NO JUDGEMENT
The customers ordered food with 3% more calories, and also gave 14% more[special] instructions compared with the average purchase over the phone. Customer's desire to avoid a negative judgment of their eating habits drove the change.

UPSELL
Kiosks, of course, never forget to upsell. McDonald's found that 20% of customers who did not initially order a drink would buy one when it was offered.

MARKET SHARE
There is research showing that a 7-second reduction in service times, in fast food restaurants can increase the company's market share by 1% to 3%.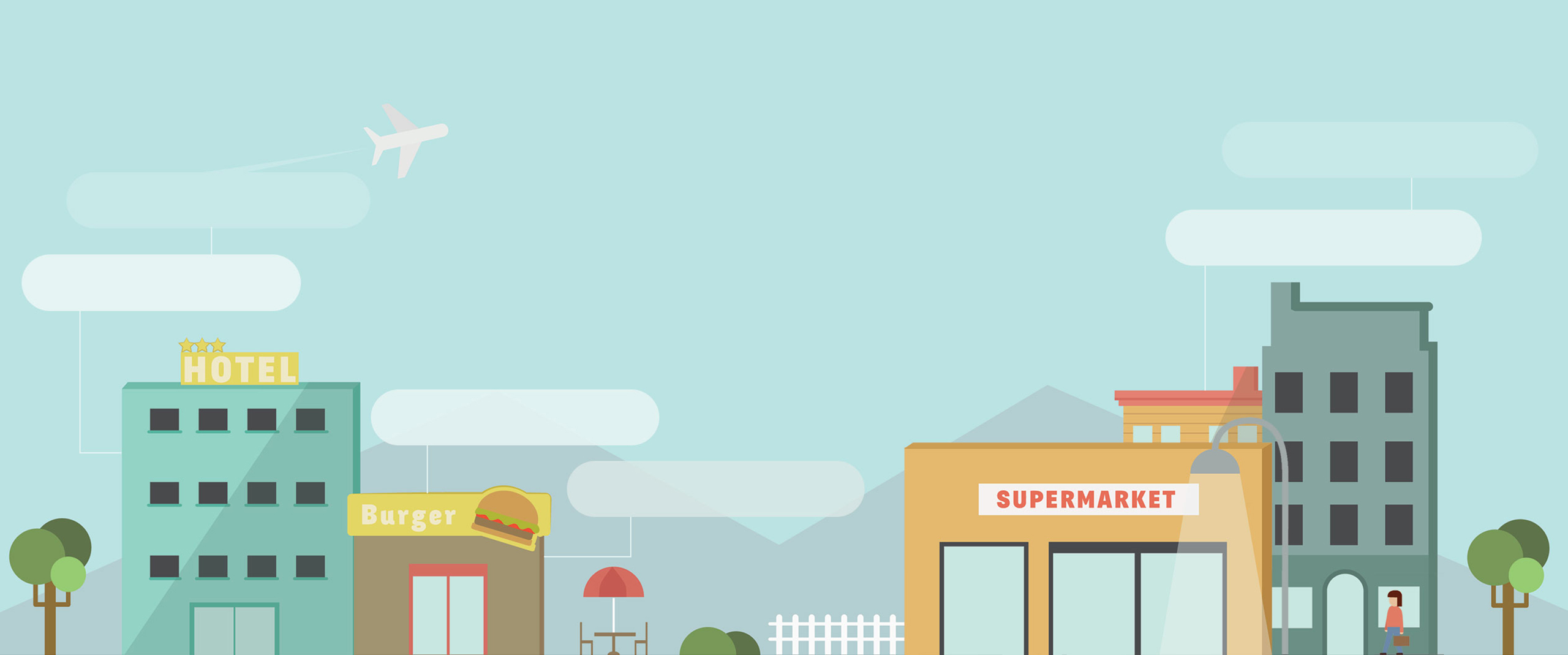 WHY CONSUMERS LIKE USING SELF SERVE KIOSKS
55%
of travelers would be more likely
to visit hotels with self check in.
51%
of hotels already offer kiosks
or are planning to add soon.
96%
of millennials think that having
kiosk in a restaurant is a plus.
63%
of consumers would prefer using
kiosks to place an order in a QSR.
57%
of consumers prefer using in store
touch screens to check price/stock.
52%
of consumers prefer using kiosks to
avoid waiting in line when shopping.