Can Bots replace call centers and IVR?
Last night I had a nightmare where an eerie voice was dictating me to press 0 for some weird crap, 1 for something even more bizarre and what not. Yeah, the good old, not-so-Intelligent Voice Response (IVR) systems. The good news is, these IVRs might soon become a thing of the past, as smart voice bots equipped with artificial intelligence (AI) start revolutionizing customer services across various business sectors.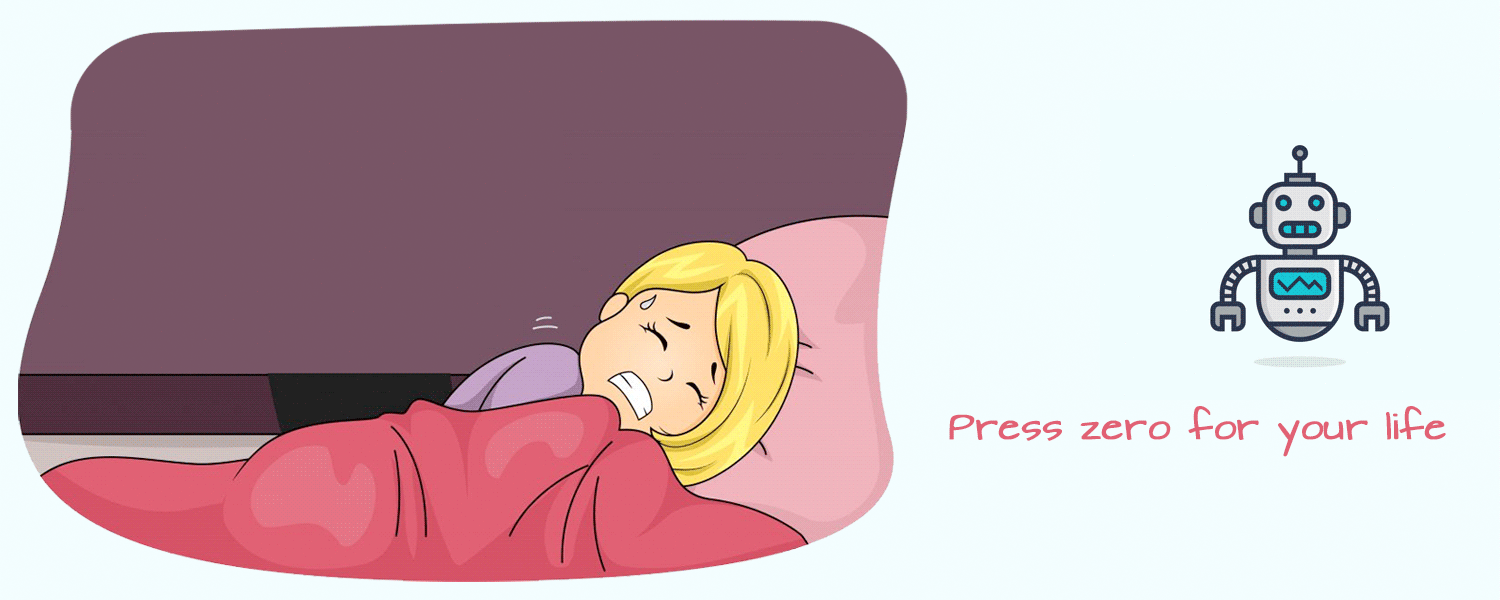 Bots in their various unique avatars, understand natural language and efficiently deliver chat (and voice) services. These contemporary bots are fast, self-learning and are continually getting smarter. While ordering food, making reservations, etc. are the most typical examples, bots can do much more, and with some decent learning data, they can mimic the human conversation to a reasonable accuracy.
Problems with IVR
I am sure, about everyone out there had this experience at least once in the lifetime. You call a customer service number, most likely, already frustrated with whatever problems you were dealing with at that time. Rather than finding a (semi) considerate human being on the other end, a robotic voice starts directing to choose from a plethora of options. Not exactly a good start, right? To make things worse, you can keep pressing nine, but nothing would change until the spooky robotic Satan had its way with you. Of course, the technology was relevant at some point, and perhaps it still helps organizations to categorize the inbound traffic to a certain degree. However, the inconvenience and frustration it causes to the valuable customers are way beyond that helping factor.
According to a Forbes article, a survey by LivePerson revealed that 53% of Americans spend 10-20 minutes on hold every week whereas 86% of people said that they go on hold every time they call a contact center. Needless to say, the industry could use a more humane solution which would not want you to get inside the phone and smash the machine voice on the other end.
Make way for bots
The first-generation commercial bots were developed in the mid-1990s, but have evolved now through the advancement of artificial intelligence (AI), machine learning and higher data processing speeds. These bots are also known as chat bots, smart bots or AI-bots, and can handle repetitive, mundane and time-consuming tasks.
Have you seen FAQ sections on the popular websites? If done right, FAQs could be an invaluable asset for business and services (to reduce the number of support tickets).

It could help to answer a lot of those questions. Of course, that was a human who paid attention and anticipated those questions. In the layman terms, bots could be considered as an advanced version of these FAQs. Throw in some artificial intelligence to a step by step FAQ, and there we have a bot in its minimalistic avatar. Bots understand the natural language conversations and work using a decision tree. Depending on the question, bot answers using a pre-defined sequential flow. This is, of course, a simple example and modern-day bots are way smarter than that. These bots can learn from user responses collected over time. Bigger the data size, brighter the bot. The machine learning plays a huge role here, and while the user sees a smooth-talking bot on the front-end, there is a lot that goes under the hood to make that bot sound so smart.
Organizations utilize machine learning algorithms to develop intuitive interfaces to program dialogues in text mode. Sometimes these do not use AI; instead, they work using rule-based methods. A well-trained chat bot can deliver impressive results 'just like a real person.' If open questions are formulated, chat bots provide the answer based on keyword research. Therefore, a chat bot's ability to interact with a customer is typically restricted to straightforward requests.
Advanced Voice Bots
A significant part of voice bots is derived from text-based chat bots. The most notable advancement is in Natural Language Understanding (NLU)-capabilities that allow software to match the traits of human speech with relevant actions while extracting the specific objects and figures from speech. New machine learning platform help to improve recognition accuracy and enable computer speech sound much like a human.
Latest voice assistants from Google and Amazon combine both bot and speech technologies. Take Google Assistant, which is a two-way conversational voice-activated device and performs day-to-day tasks like booking an appointment. Amazon Echo, a smart speaker, can provide information on news, sports, daily updates as well as play music by connecting to an intelligent AI-based Alexa voice service.
Then there are voice assistances like Siri and Contana for various smartphones that we use on day to day basis without even realizing that it is also a sophisticated bot.
Why should you care?
A 2017 Deloitte study of 450 different contact centers revealed that customer interactions over a voice channel would reduce by 17% by 2019, but, will remain significant at 47%, that is three times higher than chat, web and email, the next largest interaction channels.

It is predicted that implementing self-service, chat bots, voice bots, and automation will not reduce the agent headcounts. Combination of technology and infrastructure is needed to support voice-based services in the contact center. As the competition for automation is higher; today's IVR systems are undoubtedly going to be replaced with voice bots. If this happens, more agents are required to handle the increasing load of complex tasks.
Nevertheless, bots are becoming common in businesses to provide chat-based services round-the-clock with reduced costs. Statistics from contact center software shows that the average price of customer service via phone is nearly $35 to $50 per interaction, while, the text chat costs are much lesser and is roughly $8 to $10 per session. These chat bots can stay online longer and help customers with necessary information.
IoT focused bots are on the way to revolutionize EAM (Enterprise Asset management), MRO (Maintenance, Repair, and Operations), and FSA (Field Service Automation) markets.
Will Bots Replace IVR?
Interestingly, many businesses are revamping their support desks with the new whiff of AI voice-based services. However, there are some challenges before it could become mainstream. For example, integrating traditional telephone systems to voice-bot platforms is not easy. Then there are issues related to data privacy and compliance. With voice bot, outbound calls in the contact center seem to be a better fit as the agenda is known, but, it is hard in case of inbound calls due to the evolution of unknown conversation scenarios.
Things are changing as we speak and several companies are helping reshape the traditional helpdesks. Voca.ai has recently introduced telephone voice bots for financial call centers. IBM also has made a lot of progress in developing simpler bots.
Voice bots are still in the early days for this technology, particularly in contact centers. While these might not replace agents and IVR anytime soon, it is bound to happen with a mix of technology and humans.
Should you consider a Bot for your business
The short answer is, it depends. Every business has different operational challenges, and as one size doesn't fit all, there can't be a generic answer to this question. Book a free consultation with our bot development experts to find out if a bot is a good fit for your business or you are better off with an old-fashioned contact center or IVR.